Ellen's Latest Book: In a Midnight Wood
Available Now!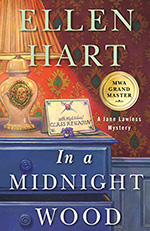 Minnesota private investigator Jane Lawless is headed on a little getaway. She and her best friend, Cordelia Thorn, plan to visit their old friend Emma in her hometown of Castle Lake, while also participating in the small town's local art festival. Between the festival and an upcoming high school reunion for the class of 1999, no one in Castle Lake is quite sure who will make an appearance.

But back in 1999, Emma's boyfriend and Castle Lake high school senior Sam Romilly went missing. Everyone thought he ran away, though the town rumor mill has always claimed his father murdered him. Today, within a week of his class's 20th reunion, Sam's remains are found in someone else's burial plot. Suddenly the case is warming up fast. People who knew Sam—friends and enemies alike—will be in town for the much anticipated reunion. It's up to Jane to sort the innocent from the guilty, before it's too late.
Buy it:
Praise for In a Midnight Wood:
"Elegantly plotted... This complex mystery will satisfy newcomers and longtime fans alike."
—Publishers Weekly

© Ellen Hart. Web site by interbridge.