The Game's Afoot Once Again For Jane & Cordelia!
Another lovely autumn is just beginning here in Minnesota—my favorite time of year. With the fall comes another Jane Lawless mystery. This year, Taken By The Wind will hit stores on October 10th. The book has already received four wonderful reviews—Publishers Weekly, Kirkus, Booklist and The Lambda Book Report. Here's a sampling:
"A compelling addition to Hart's always entertaining series."
—Booklist
"Absorbing... Unexpected twists and turns, as well as the uncertainties of Jane's love life and the activities of her irrepressible best friend, Cordelia Thorn (a treasure of mystery fiction), will keep the reader guessing."
—Publishers Weekly
"A judicious balance of long-term development and short-term storytelling; even readers who come for the ongoing characters will stay for the mystery."
—Kirkus Reviews
"Hart is a pro at providing readers with a tightly written mystery... filled with suspense, warmth and humor."
—Lambda Book Report
This is my 30th novel, and one of my favorites in the series. I hope you'll give it a try!
New From Bywater Books
St. Martin's/Minotaur has been publishing my work for the past thirteen years. In 2009 the decision was made to produce the books in hardcover and ebook, without offering a paperback edition. While I understand the need for this, I've always lamented that the books weren't available as paperbacks.
Enter Bywater!
Beginning this fall, Bywater Books will be releasing The Mirror and the Mask and The Cruel Ever After in trade paperback. I'm not only delighted that the mysteries will be available for the first time in paperback, but it's been wonderfully exciting to work with Michele Karlsberg and Kelly Smith, two respected publishing professionals—and two of my favorite people. Next spring, look for the release of The Lost Women Of Lost Lake. And in the fall of 2014, the paperback edition of Rest For The Wicked will be released. Thank you Bywater!!
An Exciting Edition
I don't know about you, but in the last few years, I've become addicted to audiobooks. After spending a great part of my day looking at pages of text (as I write and rewrite), listening to books has become one of my greatest leisure time pleasures. I listen to books in the car, when I'm working in the kitchen, and when I kick back in the evening to relax. That's one of the reasons I was so blown away when Audible came to my agent and offered to produce all of the Jane Lawless mysteries in audiobook format. Starting this fall, five of my most recent books will be released. The rest will be available in April of 2014. I've also had the great pleasure of meeting (via email) the woman who will be reading each mystery. Her name is Aimee Jolson, and I think she has a fantastic voice—and will do a great job with the entire series.
National Women's Music Festival
This past July I was asked to give the keynote address at the National Women's Music Festival in Madison, Wisconsin. Not only did I get a hug from singing legend Cris Williamson, but I was also presented with the Jeannie C. Rae award for the Advancement of Women's Culture. I have to say I was a little embarrassed, but also incredibly honored.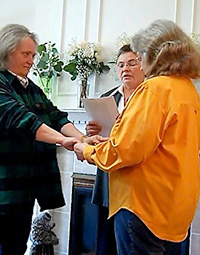 Thank You Minnesota!!
This past Sunday, my partner and I were married in our home in Eden Prairie. It was an intimate family gathering, with great food, beautiful flowers, and lots of bubbly. After being together for thirty-six years, Kathy and I thought the day was both surreal and incredibly meaningful. We've always said that we'd marry when we could do so legally in Minnesota. In many ways, neither of us ever expected that day to come. As I sit here now looking at the beautiful rings we chose, I'm still amazed. Kathy is truly the light of my life. Being legally married not only honors that love, but, in a way, legitimizes it—not that we needed anyone to legitimize our union. As one of our friends said, "Maybe you should think of it as a tax break with cake." We look at each other now and giggle—we're an old married couple!! How absolutely wonderful.
More Jane Lawless Books?
St. Martin's offered me another two-book contract, and needless to say, I was thrilled. I'm currently working on the 22nd Jane Lawless mystery, tentatively titled The Old Deep And Dark. This particular story has been enormously fun to write. I'm about a hundred and eighty pages into it—a little more than half-way. Look for some major changes for both Jane and Cordelia.
I hope to see some of you along the promotional trail this fall. I'll be appearing at the new mystery bookstore in Madison, Mystery To Me, and will travel to Chicago to do the author dinner at the Heartland Forum. And look for The Minnesota Crime Wave (Carl Brookins, William Kent Krueger and myself) in Indianapolis at Magna Cum Murder, as well as library events around the state. For those of you in or near the Twin Cities, you're all cordially invited to the publication party at Once Upon a Crime Mystery Bookstore in Minneapolis on October 10th.
Best wishes and good reading to you all!
—Ellen


© Ellen Hart. Web site by interbridge.