Ellen's Latest Book: Twisted at the Root
Lambda Literary Awards Finalist - Best Lesbian Mystery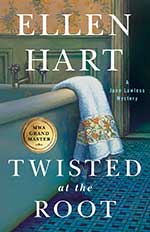 Everyone thought Rashad May and Gideon Wise were happily married. That is, until Rashad was convicted of his husband's murder.
Four years later, Rashad's brother contacts Ray Lawless—Minnesota private investigator Jane Lawless's father and the original defense attorney on the case—with potential evidence of a wrongful conviction. When the case is reopened, Jane and her father must work together to attain justice for a grieving widower.
Who actually killed Gideon and why? There are suspects and motives galore, and Jane must discover the truth. She must also track down her missing brother, Peter, who was involved in the original trial, and who might be hiding secrets of his own.
Buy it:
"Enjoyable... Distinctive characters and solid plotting underscore the strength of this long-running series."
—Publishers Weekly
"Hart uses the characters introduced in this installment of her long-running series to ramp up the creepiness."
—Kirkus Reviews
"Hart excels at making even ancillary characters fully realized. The prose is top notch and the plot complex and air-tight. The identity of the killer will come as a surprise to even the hard-core mystery aficionados. Another solid addition to Hart's long-running series."
—The Prairies Book Review
"Hart crafts a satisfying conclusion in her sequel to A Whisper of Bones; it's obvious why Mystery Writers of America named her a Grand Master. Fans of unreliable narrator mysteries may want to try this one, which has an entire cast of dodgy suspects."
—Library Journal
© Ellen Hart. Web site by interbridge.