The Old Deep and Dark is the Lambda Award Winner for Best Lesbian Mystery!
October 2014
It's that time again. Fall usually brings another Jane Lawless mystery and this fall is no exception. The Old Deep and Dark hit stores on October 7th. Publishers Weekly called it, "Engrossing." Syndicated reviewer David Marshall James said, "Brava to one of the best mystery novels of the season." I hope you'll check it out. And remember, books make great holiday gifts. (Forgive the blatant promotion.)
This summer I taught an intermediate mystery writing class at my home in Eden Prairie, Minnesota. I love teaching, and this was a particularly talented group. I expect that one or more of these young writers will be published in the future. Over the years, half a dozen of my students have gone on to publication with large or small presses. It's easy to recognize ability. What I don't know is whether or not a student has the discipline, the passion and determination to finish the book, and then go through the multiple revisions the novel will need. I'm teaching an introductory crime writing class this fall at the Loft Literary Center. As my students struggle with their stories, I'm struggling right along with them. I've got about 200 pages for the next Lawless mystery, due at St. Martin's in February.
Next weekend, October 10-11, I'll be giving the keynote address at this year's Left Coast Lesbian Conference in Palm Springs, CA. I'm very excited to meet new readers and writers, and, as always, reconnect with old friends. I attended college in Pasadena. After graduation, I lived for a time in Glendale and Alhambra, but never made it to Palm Springs, so this will be my first time in the desert. As of this writing, the temperature is supposed to be in the one hundred degree range while I'm there. Suffice it to say, with my penchant for flannel and corduroy, I'm not much of a desert person. I will attempt to dress accordingly.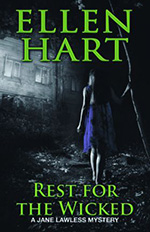 In late September, Bywater Books released Rest for the Wicked in paperback for the first time. They also negotiated with St. Martin's for the paperback rights to two more of my Jane Lawless mysteries. Look for the paperback edition of Taken By the Wind to hit stores next spring. Thank you Bywater!
My partner, Kathy, and I celebrated 37 wonderful years together this fall, as well as the one year anniversary of our marriage. It still seems like a dream. It's a day I'll never forget.
I'll be doing a number of promotional events for The Old Deep and Dark. The publication party will take place at Once Upon a Crime Mystery Bookstore on Thursday night, October 23rd. The next night, Jessie Chandler and I will be appearing at Mystery To Me mystery bookstore in Madison, Wisconsin. Other events are also scheduled, so check out the events page on my website. Hope to see some of you on the promotional trail this fall.
Good reading to all of you!
Ellen


© Ellen Hart. Web site by interbridge.