Click here for information about the Sophie Greenway Series.
Hallowed Murder (1989)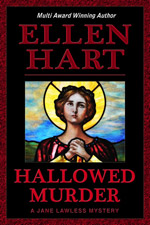 The police call Allison Lord's drowning a suicide, but her housemates at her University of Minnesota sorority insist it was murder. That's when alumnae advisor, Jane Lawless, steps in to find out the truth. Assisted by her irrepressible sidekick Cordelia, Jane searches for clues, and what she finds is as chilling as the Minnesota winter. At a lonely vacation lodge, amidst the icy snow drifts, she risks her life to ensnare a cunning killer.
"Hallowed Murder engulfs the reader from the very first page... This novel is so tightly plotted that every word counts."
—Bay Windows
"Hart's crisp, elegant writing and atmosphere is reminiscent of the British detective style, but she has a nicer sense of character, confrontation, and sparsely utilized violence."
—Mystery Scene Magazine
Buy it:
Vital Lies (1991)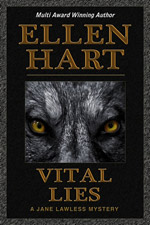 An old friend invites Minneapolis restaurateur Jane Lawless to her Victorian inn to celebrate the winter solstice—and investigate a murder from years before. Yet as soon as Jane and her theatrical pal, Cordelia, arrive, they face broken glass in the parking lot, dead animals in the bedrooms, a bomb scare—malicious pranks that eventually lead to another homicide. As falling snow blots out the rest of the world, and ghosts of the past rise up with a vengeance, Jane finds herself tracking the twisted psyche of a dangerous killer.
"This compelling whodunit has the psychological maze of a Barbara Vine mystery and the feel of Agatha Christie."
—Publishers Weekly
"A mystery lover's feast."
—Alfred Hitchcock Mystery Magazine
"The dialogue is believable, filled with humor, and the exchanges are consistent and realistic. This might just be one mystery series worth collecting and owning in its entirety."
—The Washington Blade
Buy it:
Stage Fright (1992)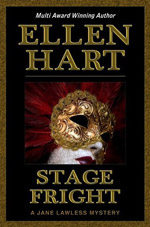 Aging actor Torald Werness just had his last affair, his last drink, and his last curtain call. In a darkened theater, restaurateur-sleuth Jane Lawless finds his dead body impaled on a part of the set—and herself a suspect. Yet Jane believes the motive for the murder lies within the dead man's family, a glamorous Midwestern theatrical dynasty, whose talented members give their best performances off stage. Jane and her uninhibited crony, Cordelia, start digging into the family dirt, and discover a tangled web of deceit.
"Ellen Hart is on a roll."
—St. Paul Pioneer Press
"Stage Fright is urbane, political, and a real page turner. Celebrate another plum in a really fun series."
—City Pages
"Hart's characters are intriguing, funny, tortured... Feverish tension is created and sustained for more pages than usual in popular mysteries. A stellar piece of writing."
—Gaze Magazine
Buy it:
A Killing Cure (1993)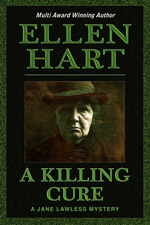 After seventy-five years of high-minded respectability, the Amelia Gower Women's Club is in trouble. One distinguished director has been strangled. And another, the founder's granddaughter, has taken a fatal plunge down a third-floor staircase. As soon as restaurateur-sleuth Jane Lawless begins a bit of discreet snooping into these high profile murders, wheels within wheels start to turn, meshing the private lives of Gower friends and family with the club's inner workings and the wealthy Gower Foundations's covert agenda. Even Jane's new lover, Dorrie, is somehow involved. But best friend Cordelia hangs tough, and a good thing too, for the way things are going, the Gower Club murders may well branch out to include Jane herself.
"As usual, Hart does a terrific job... She relies more on the psychology of the character than on raw violence, more on Jane puzzling through the clues that surround her than on brute force. These are thinking women's mysteries. Ellen Hart is one of the best mystery writers working today, and if you like mysteries, you must read hers."
—Bay Windows
"An unforgettable thriller."
—The Midwest Book Review
"The Jane Lawless series is a gem."
—MLB News
Buy it:
A Small Sacrifice (1994)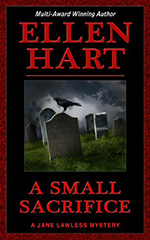 When Jane Lawless' wise-cracking sidekick, Cordelia Thorn, is summoned to Summer Green, Wisconsin, for a reunion of the Shevlin Underground—a group made up of Cordelia's five closest theatre friends from college—it quickly becomes evident that reminiscing is not all that is on the weekend's agenda. One of the friends, soap opera star Diana Stanwood, is an alcoholic whose condition is so dangerous that her friends have gathered for an intervention to save her life. Emotions are running high. As the story twists and turns around the elusive lives of these five college friends, one of them drops dead. Alarmed, Cordelia sends for her old friend, Jane, to do some quiet investigating. Together they follow their hunches into the not-so-carefree past and back to the troubled present, where they find a single match could blow up all their lives.
"An absorbing plot... superior."
—Publishers Weekly
"Hart creates an outstanding setup in this novel. From the group's sexual tensions, philosophic differences, and past angers, we grasp the many motives for murder. But from the friends' evident love, we believe none could have done it. To this dilemma, Hart finds an ingenious solution."
—Wilson Library Bulletin/The Best of New Writers
Buy it:
Faint Praise (1995)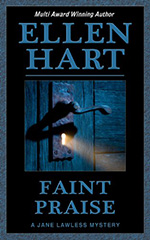 When a well-known television personality meets with an untimely demise dressed in compromising attire, a sinister series events begin to unfold in the shadow of Minneapolis' famed Foshay Tower, entangling the Twin Cities in a web of deceit. In chic Linden Lofts, where the man lived, the other tenants are spooked, and Jane Lawless soon finds out why. They, like the deceased owner, have secrets to conceal, and the ghostly someone with a full set of keys who's scouting out their apartments may soon make that impossible. Can one of the Linden Loft's upscale professionals really be an aspiring blackmailer? Before Jane and her theatrical pal, Cordelia, can make sure, a brutal murder ups the ante.
"Hart's fans will rejoice in the sixth Jane Lawless mystery. Fully of wit and wicked deeds, fast pacing and memorable characters, it is the best caper yet...Followers of Lawless will delight in...the promise that this brightest of lesbian detective series burns ever brighter."
—Booklist (Starred Review)
"The mysteries pile up so relentlessly that you'll just have to wait to see who gets caught without a seat in the game of murderous chairs...(The) most drolly understated rescue of the heroine from certain death you've ever seen."
—Kirkus Reviews
"...intelligent and engrossing."
—Publishers Weekly
"The whole series is a must-read for mystery fans who relish contemporary cozies with a brain."
—Minneapolis Star Tribune
Buy it:
Robber's Wine (1996)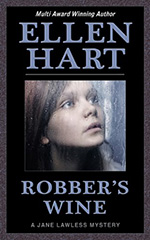 When Minneapolis amateur sleuth Jane Lawless and her saucy sidekick, Cordelia Thorn, set out for the sleepy shores of Pokegama Lake in northern Minnesota to escape the urban swelter, hope for a little R & R quickly heads south. Before they've even had a chance to unpack, they find that old friend, Belle Dumont, has vanished, only hours before she was to reveal startling news to her three grown children. The kids and Belle's lover deny any knowledge of this mysterious bombshell. After being mislead again and again, Jane begins to suspect the entire family of hiding something dark—and deadly.
"Another assured title from Ms. Hart, who is proving herself to be consistently excellent."
—Crime Time, London
"Robber's Wine, replete with the Cordelia-generated humor that suffuses the Jane Lawless series, will intoxicate with its satisfying resolution. Robber's Wine is surely a mystery to be savored."
—Lambda Book Report
Buy it:
Wicked Games (1998)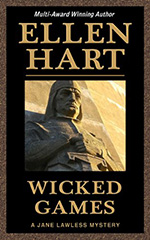 Jane Lawless has worked hard to make her Minneapolis restaurant a success, and she's finally reaping the financial rewards. Yet even the demands and excitement of being a popular restaurateur and living the good life don't bring the same satisfaction they once did. Jane needs a bigger challenge. A mystery to solve. The thrill of the chase. When Jane rents her third-story apartment to a new tenant, children's book author Elliot Beauman, she unwittingly opens the door to a sinister, decades-old mystery that has been waiting patiently to unfold—in her own house. Meanwhile, Jane assists a detective in tracking down clues about her new neighbor, Patricia, whose husband died under suspicious circumstances. Patricia is eager to become friends with Jane—friends or even a lover—though she knows Jane is immersed in a long-distance relationship with the attractive but secretive Dr. Julia Martinsen. Little does Jane know that the strange lodger upstairs, an attractive neighbor, and a volatile love affair are just the beginning of her problems.
"Hart distinguishes the (mystery) form with a keen combination of skillful prose and above standard plot."
—The Advocate
"Wicked Games is a great addition to the Jane Lawless series, and a great introduction to Jane Lawless for those who haven't read Hart's previous novels. Gay and Lesbian fiction fans are rewarded with superb writing and a fabulous heroine. Fans of mystery and suspense are likewise rewarded. I highly recommend this novel for fans of both genres."
—Kelly Caldwell, About.com
"How delightful it is to see not only the star of a series, but a secondary player, too, develop subtly yet incisively as genuinely three-dimensional characters—yet another indication of Hart's skill as this jewel of a lesbian series continues to flourish."
—Booklist (Starred Review)
"Wicked Games is more psychological suspense than the adventure of an amateur sleuth, and it is definitely darker than formerly common to the series. Hart has written a book that feels very close to her heroine's truth."
—The Drood Review of Mystery
Buy it:
Hunting the Witch (1999)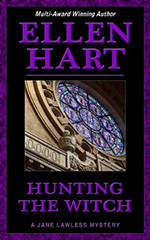 Minneapolis restaurant owner Jane Lawless has a knack for cooking—and an uncanny talent for detection. But assisting a private investigator has left her with a serious head injury... and vulnerable enough to say yes when a former lover offers to help her recuperate. She never suspects that returning to Dr. Julia Martinsen's TLC will take her out of the frying pan and into the fire. Nervous and jittery, the doctor is hiding something, and Jane—in love, but wary—needs to know what it is. Since desperate times call for desperate measures, Jane takes matters into her own hands and does some checking into Julia's life, both past and present. What she learns makes her blood run cold. Now, a man lies dead in an elevator shaft, the doctor is clearly in danger, and Jane can either turn to the bottle for a way out, or find a killer, before death becomes the final way to leave a lover.
"Hart's writing and plotting are at the highest level. Another bull's-eye for Hart—I'd say this is the best Jane Lawless yet!"
—Girlfriends
"Hart has given us another sophisticated, compassionate, suspenseful, thought-provoking mystery...(Her) darkest by far in the series."
—Judith V. Branzburg, The Lesbian Review of Books
Buy it:
The Merchant of Venus (2001)
Jane Lawless is a woman at a crossroads—her lover has left, she's recovering from a vicious attack sustained last year, and the holidays are closing in. With no one to help her ring in the new year, Jane reluctantly agrees to accompany her good friend Cordelia Thorn on a peculiar holiday trip: Cordelia's estranged sister, Broadway star Octavia Thorn, has asked them to attend her wedding.
Octavia getting married is no surprise—she's done it three times before—but her candidate for hubby number four certainly is. Roland Lester is a reclusive eighty-three-year-old retired Hollywood director, a relic from the golden age of Tinseltown with a controversial past. No one can understand how the two met, much less fell in love. When the bodies start to drop, Jane realizes it might not be love at all that brought the young diva and the aged director together, but something much deeper, and perhaps more sinister.
Delving deep into film history, Jane finds unsettling connections between Roland and a murder that was never solved. Finding out what happened forty years ago could be the key to unlocking the mystery of Octavia's curious marriage, but laying bare such long-buried secrets also promises grave consequences for everyone involved.
"Hart has done her homework and turned in another smart, lively page-turner that will delight her many fans and probably win her some new ones, especially those who enjoy tales of Tinseltown in its heyday."
—Jane Adams, Amazon.com
Buy it:
Immaculate Midnight (2002)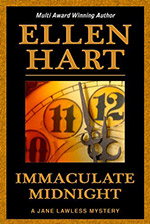 Ray Lawless, prominent defense attorney and father of Minneapolis restaurateur Jane Lawless, tries his biggest case yet defending an accused serial murderer and arsonist whom the media has dubbed "The Fireman." Ray's client is eventually convicted and sentenced to two consecutive life sentences, though he proclaims his innocence to the end, and a few days later, he kills himself in his cell.
But someone in The Fireman's life can't let go, and, blaming Ray for the man's death, plots a meticulous revenge. Both Jane and her brother Peter, who is already under terrible stress because of a troubled marriage, feel the heat of the avenger's plan.
But Jane is intimately familiar with danger, and she's never been one to shrink from a fight. With the help of her best friend Cordelia, Jane sets out to discover why this person is so determined to undo her family. When she begins to dig into The Fireman's life, the puzzle unravels, leading Jane to a final confrontation with someone bent on making the Lawlesses pay, perhaps with their lives.
"Great plotting and fine characterization."
—Library Journal
Buy it:
An Intimate Ghost (2004)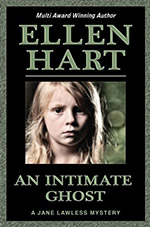 Jane Lawless is thrilled to be catering the wedding of some family friends, Nick and Lauren Clifford, but when Jane arrives at the wedding, she's in for a shock of a lifetime—and one that could jeopardize her career. The food has been spiked with hallucinogenic mushrooms and the drug-hazed guests are engaged in reckless behavior.
When the groom takes a near fatal dive into an empty pool, an investigation begins and Jane turns to her best friend Cordelia Thorn for help in clearing her name. But when Cordelia's sister, Octavia, suddenly deserts her infant daughter on Cordelia's doorstep, Jane is on her own. Events take a turn for the worse when the father of the groom comes up against shocking accusations, and it's up to Jane to uncover the truth.
"Incorporating societal ills torn from the headlines, Hart bares the weaknesses in her well-realized characters as well as their strengths. Despite a plot refreshingly short on guns and gore, the tension is palpable in this spunky page-turner."
—Publishers Weekly
Buy it:
The Iron Girl (2005)
When Jane Lawless finds a gun in her dead partner's briefcase, she begins to wonder about Christine's involvement in the most infamous murder case in Minnesota history. On a sultry summer evening in late August of 1987, the Simoneau mansion was the site of a bloody triple homicide. In the weeks prior to that night, Christine had been working with the family as their real estate agent.
As Christine lay dying in a hospital bed, the murderer was arrested. The trial was quick and final, the murderer sentenced to three consecutive life terms. Now, as Jane begins an emotional journey into her partner's past, she comes face to face with some hard truths—truths not only about the real identiy of the murderer, but about her own life and loss.
"[A] shrewd and consistently entertaining whodunit... Hart delivers vivid, off-the-beaten-track characters and enough clues and layers of intrigue to keep the pages turning."
—Publishers Weekly
Buy it:
Night Vision (2006)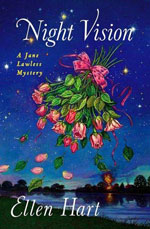 Joanna Kasimir, an old friend of Jane Lawless, left Minneapolis years ago to make it big in Hollywood and, unlike so many others, she succeeded. Unfortunately, her stardom came at a price. Early in her career, Joanna was involved with a man who quickly went from being an idle interest to a dangerous stalker. Nearly a decade has passed since she sent him to prison, but just as she is about to leave for her hometown to star in her friend Cordelia Thorn's production of "Who's Afraid of Virginia Woolf," she receives one of his ominous calling cards.
Joanna refuses to let him control her life—she can't. Not again. Tired after ten years of fear, ten years of hiding, she calls on Jane and former homicide detective A.J. Nolan, but they may not be able to protect her from a man who refuses to be anyone's one-night stand.

And when they find out that Joanna may not be the only one on the run, their investigation quickly spins Jane into a deadly game of cat and mouse.
"Entertaining, unpredictable..."
—Publishers Weekly
Buy it:
The Mortal Groove (2007)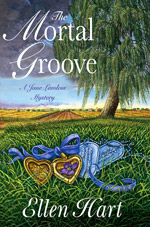 Minneapolis restaurateur and amateur sleuth Jane Lawless is in the middle of ringing in the New Year the best way she knows how—with her family, friends, and some excellent champagne—when the biggest financial backers in Minnesota politics break up the party with a little backroom proposition for her father: How'd he like to be the state's next governor? Flattered, Ray Lawless, a retired defense attorney, agrees to run, and the latecomer's sprint to the state capital is going great until reporters and opponents start digging up the kind of dirt that is more valuable than gold out on the campaign trail. He and his family are fair game, but worse than that, so are the men running his campaign. Their secrets, involving the mysterious death of a young woman, have been buried since the summer they all came home from Vietnam. Unfortunately for Jane and her father, those secrets won't stay that way for long.
"Hart's engrossing 15th mystery to feature lesbian restaurateur Jane Lawless will make excellent election-year reading... [a] fun whodunit."
—Publishers Weekly
Buy it:
Sweet Poison (2008)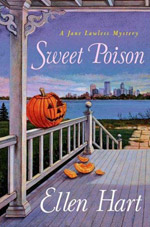 Jane Lawless is at her wit's end keeping her Minneapolis restaurants running while volunteering on her father's campaign for governor. With an eleven-point lead, the race is Ray Lawless's to lose, but all that changes when his rival posts a list of violent criminals that are back on the streets early, thanks to Ray's work during his career as a defense lawyer. Corey Hodge is one of the convicts that took Ray's advice to plead guilty for a crime that he swears he didn't commit. Bitter from time served, revenge lurks in the back of his mind. Then one of Ray's young campaign volunteers is killed, and with the murder mirroring the crime Corey was convicted of, Jane has to bring the killer to justice to save her father's political career and to keep Corey from going to prison again.
"Juicy... her fans will enjoy the many twists, both personal and criminal."
—Publishers Weekly
Buy it:
The Mirror and the Mask (2009)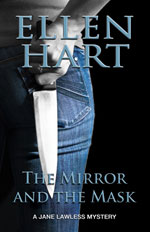 Minneapolis restaurateur Jane Lawless is at crossroads. The rough economy has put her plans for a third restaurant on hold, and her long distance romance is on the rocks and quite possibly unsalvageable. Unsure of what to do next, she takes her good friend A.J. Nolan up on his standing offer to take her on as a private investigator.
While still in training, her first job seems simple enough. All she had to do is find Annie Archer's stepfather. Jane tracks down a likely match—a man who has made a small fortune in real estate. While she's happy to close her first case, she finds it hard to reconcile the difference between PI work—finding what people pay you to find—and uncovering the truth, the whole truth, especially when clues in this seemingly simple case point to more threatening family secrets than where Annie's father has been hiding out.
"The Lambda Literary Award- and Minnesota Book Award-winning author of 16 Jane Lawless mysteries knows how to spin a tale full of complex plot lines, fast-paced action, and characters skilled in deception. Fans...will not be disappointed."
—Library Journal, Starred Review
Buy it:
The Cruel Ever After (2010)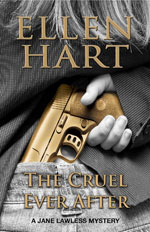 The shock that Minneapolis restaurateur Jane Lawless is in for when Chester Garrity, her ex-husband, returns to a city that he swore he'd never see again is nothing compared to Chester's own. After their divorce many years ago, he took off with his inheritance to travel the world, leaving Jane with enough seed money to open her first restaurant, which worked out well for Jane but less so for Chester.
Now he's back and penniless, or as he would prefer to say, between fortunes. He's working an angle to make his next one by selling a priceless artifact recently looted from the Baghdad Museum, but it all falls through when he wakes up next to the dead body of his buyer with no memory of what happened the night before. Panicked, Chester flees the scene, eventually returning to cover his tracks only to find that someone has already taken care of that for him, but at what price?
"Delightful... Buttressed by distinctive characters and a splendid Minnesota setting, the well-constructed plot builds to a satisfying conclusion."
—Publishers Weekly
Buy it:
The Lost Women of Lost Lake (2011)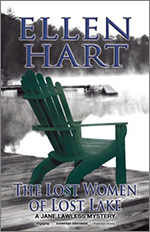 Restaurateur Jane Lawless is taking some much-needed time off at her family's lodge when her best friend, Cordelia Thorn, arrives with news that one of their good friends, Tessa Cornell, has taken a nasty fall and needs their help with rehearsals for a play that is set to open in a week. When Tessa isn't on crutches, she helps run Thunderhook Lodge, the premier resort on Lost Lake. And while she clearly needs Jane and Cordelia's assistance, she isn't exactly acting all that grateful.
A man who claims to be a journalist has arrived in Lost Lake with an old photograph and some questions about a death that go back decades. In The Lost Women of Lost Lake, Jane's only hope of protecting Tessa from the secrets that are surfacing all around her is to uncover the whole truth before anyone else can. Read an excerpt!
"Engaging... sometimes bittersweet."
—Publishers Weekly
Buy it:
Rest for the Wicked (2012)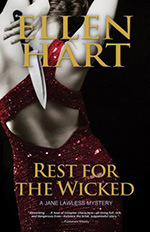 DeAndre Moore came to Minneapolis from St. Louis with a purpose, but things aren't going as he planned. When it becomes clear he's in way over his head, DeAndre can think of only one person to call for help—his Uncle Nolan's business partner, newly licensed private investigator Jane Lawless. However, by the time Jane listens to his voice mail, she's hearing a voice from beyond the grave—DeAndre left the message only minutes before he was knifed to death outside a gentlemen's club. Soon his murder isn't the only one.
With Nolan in the hospital, Jane sets out to find out who killed DeAndre, how his death is connected with the others, and what he was doing in Minneapolis in the first place. Read an excerpt!
"Absorbing... a host of complex characters—all living full, rich, and dangerous lives—bolsters the brisk, suspenseful story."
—Publishers Weekly
Buy it:
Taken by the Wind (2013)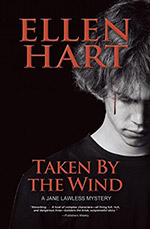 Although Eric and Andrew have been trying to keep up a semblance of normal life, they know their thirteen-year-old son Jack has been having a tough time of it since they separated. They've been concerned, but now they're terrified—Jack has run away from home. It happened once before, just after the separation, but then it was only a matter of hours before Eric found him. This time, Jack disappeared with his cousin, and the two of them haven't been seen for more than twenty-four hours. Desperate, Eric and Andrew call on private investigator Jane Lawless, a friend of Andrew's from years ago. Despite the fact that her business partner, A.J. Nolan, is now in a wheelchair and struggling with depression, Jane agrees to help out. But after examining Eric and Andrew's home, Jane's first impression of the case isn't good—in fact, she's not convinced the boys ran away at all. She thinks they may have been abducted... or worse.
"An engrossing mystery with captivating characters you should meet."
—Minneapolis Star-Tribune
Buy it:
The Old Deep and Dark (2014)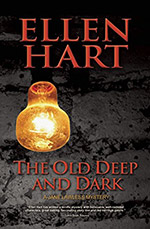 Cordelia is working to restore a historic theater in downtown Minneapolis that she recently bought with her sister Octavia, a world-famous actress. Cordelia has a vision for the playhouse's future, but the more she learns about the building, the more fascinated she becomes by its past. Nicknamed "The Old Deep and Dark" because of the Prohibition-era double murder that occurred in the basement—then a speakeasy—there are a wealth of secrets hidden inside its walls. And, to her shock and horror, Cordelia discovers that there is also one present-day body literally buried in a basement wall. Cordelia immediately calls on her best friend, Jane Lawless. Although Jane is already in the thick of another investigation—she's embroiled in a well-known country-western singer's family scandal—she agrees to help Cordelia out on the side. But show-biz is a small world, and as Jane starts tracing the trails of two separate investigations, she's surprised to find they might not be as unconnected as she thought.
"Ellen Hart has written a terrific mystery with believable, well-rounded characters, great setting, fascinating story line, and red herrings galore. She effortlessly juggles what seems to be three or four different story lines until she seamlessly brings them all together to a surprisingly logical conclusion."
—Tulsa Book Review
Buy it:
The Grave Soul (2015)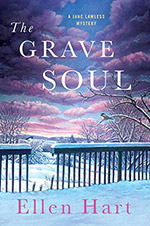 When Guthrie Hewitt calls on restaurateur and private investigator Jane Lawless, he doesn't know where else he can turn. Guthrie has fallen for a girl—Kira Adler. In fact, he was planning to propose to her on Christmas Eve. But his trip home with Kira over Thanksgiving made him uneasy. All her life, Kira has been haunted by a dream—a nightmare, really. In the dream, she witnesses her mother being murdered. She knows it can't be true because the dream doesn't line up with the facts of her mother's death. But after visiting Kira's home for the first time, and receiving a disturbing anonymous package in the mail, Guthrie starts to wonder if Kira's dream might hold more truth than she knows.
When Kira's called home again for a family meeting, Guthrie knows he needs Jane's help to figure out the truth, before the web of secrets Kira's family has been spinning all these years ensnares Kira too. And Jane's investigation will carry her deep into the center of a close-knit family that is not only fraying at the edges, but about to burst apart.
In The Grave Soul, Ellen Hart once again brings her intimate voice to the story of a family and the secrets that can build and destroy lives.
"Riveting... Readers will be caught up in this harrowing look at the damage done in the name of family preservation."
—Publishers Weekly
Buy it:
Fever in the Dark (2017)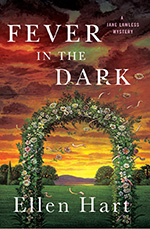 On their one year wedding anniversary, Fiona and Annie return home from a trip together to discover that their poignant proposal video has been posted on YouTube and has garnered hundreds of thousands of hits. The video is on the verge of going viral, and there's enormous media interest in Fiona and Annie, as their fame comes just on the heels of the Supreme Court's decision to legalize gay marriage across the country. As some of the attention starts to turn vicious, Fiona pulls in an old friend, private investigator Jane Lawless, to help separate the harmless threats from the potentially harmful.
As the media storm continues to grow, Fiona revels in the attention, but Annie is furious. Fiona has always known that Annie has secrets, but her newfound notoriety threatens to bring Annie's past straight to their door. And then, when a murder occurs and Annie and Fiona are both suspects, it's up to Jane to prove their innocence... although the more she learns, the more she starts to wonder whether they actually are innocent.
"A tightly plotted, exceptionally engrossing mystery, one of the strongest in a popular series."
—Booklist
Buy it:
A Whisper of Bones (2018)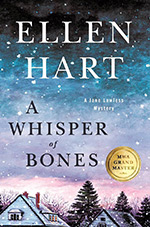 Britt Ickles doesn't remember much from her only visit to her mother's childhood home when she was a kid, except for playing with her cousin Timmy and the eruption of a sudden family feud. That's why, when she drops by unannounced after years of silence, she's shocked when her aunts tell her Timmy never existed, that she must be confusing him with someone else. But Britt can't shake the feeling that Timmy did exist…and that something horrible has happened to him. Something her aunts want to cover up.
Britt hires Jane Lawless, hoping the private investigator can figure out what really happened to her cousin. When a fire in the family's garage leads to the discovery of buried bones and one of the aunts dies suddenly and suspiciously, Jane can't help but be pulled into the case. Do the bones belong to Timmy? Was the aunt's death an accident, suicide, or homicide? What dark secret has this family been hiding for decades? It all depends on Jane Lawless to unravel.
"An engrossing plot, and the outsize presence of Jane's best friend, Cordelia Thorn, ensure reader attention to the end"
—Publishers Weekly
Buy it:
Twisted at the Root (2019)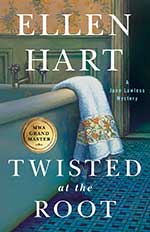 Everyone thought Rashad May and Gideon Wise were happily married. That is, until Rashad was convicted of his husband's murder.
Four years later, Rashad's brother contacts Ray Lawless—Minnesota private investigator Jane Lawless's father and the original defense attorney on the case—with potential evidence of a wrongful conviction. When the case is reopened, Jane and her father must work together to attain justice for a grieving widower.
Who actually killed Gideon and why? There are suspects and motives galore, and Jane must discover the truth. She must also track down her missing brother, Peter, who was involved in the original trial, and who might be hiding secrets of his own.
"Enjoyable... Distinctive characters and solid plotting underscore the strength of this long-running series."
—Publishers Weekly
Buy it:
In a Midnight Wood (2020)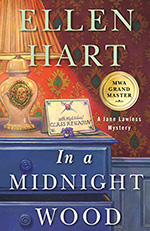 Minnesota private investigator Jane Lawless is headed on a little getaway. She and her best friend, Cordelia Thorn, plan to visit their old friend Emma in her hometown of Castle Lake, while also participating in the small town's local art festival. Between the festival and an upcoming high school reunion for the class of 1999, no one in Castle Lake is quite sure who will make an appearance.

But back in 1999, Emma's boyfriend and Castle Lake high school senior Sam Romilly went missing. Everyone thought he ran away, though the town rumor mill has always claimed his father murdered him. Today, within a week of his class's 20th reunion, Sam's remains are found in someone else's burial plot. Suddenly the case is warming up fast. People who knew Sam—friends and enemies alike—will be in town for the much anticipated reunion. It's up to Jane to sort the innocent from the guilty, before it's too late.
"Elegantly plotted... This complex mystery will satisfy newcomers and longtime fans alike."
—Publishers Weekly
Buy it:
© Ellen Hart.